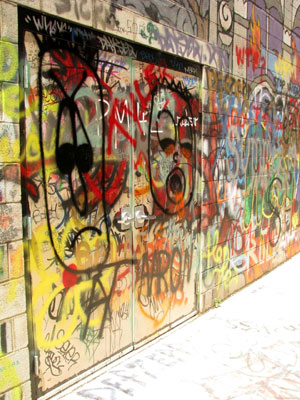 Troubadour is proud to be working this summer at the TechArb (alley entrance depicted at right)- a student-run incubator for UM student tech startups.  Other cool companies working in this "subterranean" (article at the Ann Arbor Chronicle) co-working space include:
Backyard Brains, which enables high school teachers to incorporate neurophysiology into their lessons.
Carrier Mobile, which aims to replace hand-written logs for truck drivers with cell phone software.
CrowdClarity, which uses the wisdom of crowds—often called crowdsourcing—to assist in product development.
Mobil33t, a mobile development company primarily focused on smartphone application development.
My BandStock, which allows bands to raise money from their fan base to make records.
Phonagle, which focuses on team-based multiplayer games incorporating social networking.
Quazie.net, which focuses on iPhone applications and other ventures.
Shepherd Intelligent Systems, which tracks public buses and posts their locations online through Google Maps.
WOMP Software, which creates and distributes lightweight, easy-to-use software.
The TechArb is a temporary home to these startups, but with the support of the university and local venture firm, RPM Ventures, it may be a more permanent space to foster entrepreneurship at the University of Michigan.  Full article from the University of Michigan News Service.